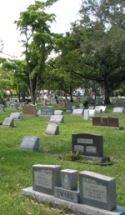 Evergreen Cemetery
Established in 1910, Evergreen is Fort Lauderdale's oldest intact cemetery. It is the final resting place of many of the founding families of Fort Lauderdale, including the Stranahans, Kings, Cromarties, Bryans, and Olivers. In 1917, the City of Fort Lauderdale purchased the cemetery from Mr. and Mrs. E. T. King. The cemetery is located just east of the intersection of Federal Highway and Davie Blvd. along SE 10th Avenue in Fort Lauderdale, Florida.
NOTE: This is not the cemetery. Please do not contact us with questions for the cemetery.
To view an alphabetized list of names in the cemetery, click the appropriate letter group. To view names in the order that they appear in the cemetery, click "In Order."